Campground Amenities: Campers Are Willing To Pay More!
We've compiled a list of the most asked-for amenities that campground owners can include to create an unforgettable experience for their guests that will keep them coming back year after year! Campers are willing to pay more to stay at campgrounds that offer these highly sought-after amenities, so make sure you don't miss out on these easy ways to wow your guests.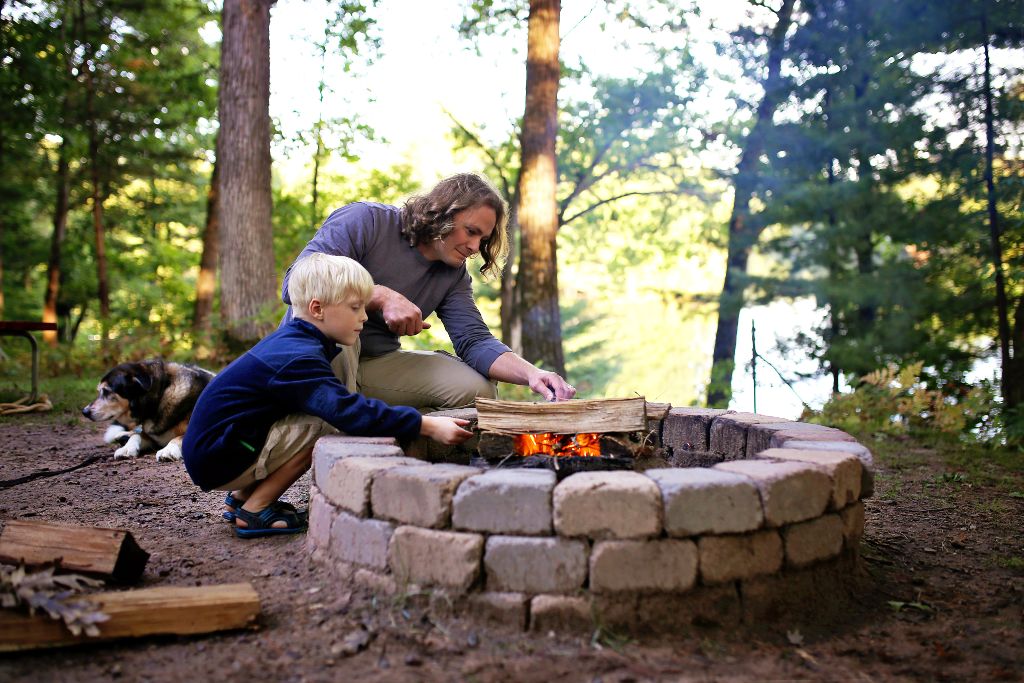 Communal Fire Pits and Grills
*Note: Before installing your communal fire pit and/or grill, please be sure to check and follow safety guidelines from your local and provincial open fire and Covid-19 protocols to ensure safety for all.
Some of the best camp memories are made under the stars, sitting around an open fire. Create an inviting atmosphere for guests by providing a communal fire pit for your guests to enjoy. You'll see the fire blazing nightly, with guests mingling and sharing stories until the early hours of a new day.
Keep the grill hot, campers are lining up for their chance to BBQ this summer! Plan ahead and include an outdoor table for meal prep and a handwashing station for sanitary purposes.
Clean Drinking Water Stations
Keeping campers hydrated is an important part of running a safe campground. Provide guests access to safe drinking water stations or a water bottle refill stand, especially if your campground is located in a remote location. If your campgrounds access to water is limited, provide guests with directions to the nearest available water, or even better, sell bottled water in various amounts from your campground store. Guest Tracker offers point-of-sale services that make it easy to keep your store stocked and campers happy!
Toilets & Showers
After long days spent soaking up the sun and enjoying the great outdoors, your guests will rejoice at the option to take a steaming hot shower before hitting the hay during their stay. Setting up a simple shower system, or even an obstructed outdoor spot to rinse off will elevate your campground over other sites that don't offer any "bathroom luxuries" to their guests.
Signage & Lighting
Give guests a sense of security while they relax outdoors by making sure the campground has ample outdoor lighting and proper signage. Nothing's worse than getting up in the middle of the night to brave going outside to use the restroom in the pitch darkness. Make sure the bathroom and all communal areas have adequate lighting. For energy conservation, opt for motion-sensor rope lights that will turn off after a set amount of time or keep the lights operating on a set timer.
Ensure guests don't get lost and provide signage on all campground entrances and trails. If your campground is located near a lake or river, make sure you have the proper signage in place to ensure safety standards are being met. And if you want to add to your campgrounds' charm, you can use signage to your advantage by sharing interesting facts about the location's history or local lore.
Bear Safe Food Storage & Garbage Disposals
Keep campers and wildlife safe by providing animal-proof garbage disposals and food storage options for the campground. Eliminate the risk of injury or property destruction by accounting for local bear and wildlife populations that might try to find their next meal on your campground. Metal storage bins with animal-proof safety locks should be used in all rural and residential campgrounds.
Pet-Friendly Accommodations
Travelers love being able to bring their furry friends on adventures, make your campground Fido-friendly to maximize your bookings and reviews. Provide guests and their four-legged pals a special section of the campground for dog-friendly camping to ensure pet lovers, and non-pet lovers alike have an enjoyable time staying at your site. Include a dog watering station, play area and anything else you can think of that would make pet owners even more excited to stay with you.
—————-
We hope these suggestions are helpful in planning the ultimate campground experience for your guests! Did you know we offer a free demo of our booking software? Give it a try, or contact our helpful team today for any further inquiries.